Oldtimers stock
Huidige tijd in België: 14:55:25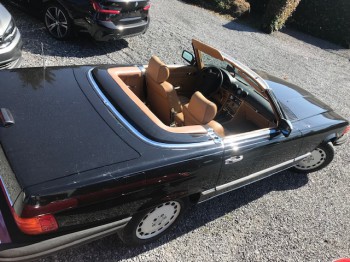 Klik op de afbeelding voor een grotere weergave
Mercedes SL 560 Cabrio The best and last from the series 107 with Carfax!
Bel mij op het nummer:
+ 32 (0)475 65 43 38
Type:
Mercedes SL 560 Cabrio The best and last from the series 107 with Carfax!
Eerste inschrijving:
1989
Bemerkingen:
Slechts 69000miles met History certificaat Carfax en alle boekjes van Mercedes voorhanden . Import uit USA Dallas en reeds ingevoerd in Belgie ( Dus alles voldaan en documenten compleet voor oldtimer keuring)
Originele keiharde en goed rijdende Mercedes SL560 in mooie kleuren combinatie Zwart met beige leder ! Voertuig is op oldtimer leeftijd en in gebruikte staat ( Geen showroom wagen en dus hier en daar wat klein optisch opfriswerk )
Deze Mercedes R107 cabriolets beginnen de prijzen van de Pagode te volgen, wacht dus niet te lang. Zeker in deze nette en originele staat worden deze klassieke SL's steeds lastiger te vinden, het 560SL model is daarnaast zeer gewild en moeilijker te vinden.
with Carfax History certificate and all the books available from Mercedes. Imports from USA Dallas and already introduced in Europe Belgium (So all satisfied and complete documents ready for inspection oldtimer)
Original tough and good driving Mercedes SL560 in beautiful color combination black with beige leather! Vehicle is oldtimer age and in used condition ! (no c showroom car and so here and there small optical refresher work) ! Now rust
Mercedes R107 convertibles starting to follow the Pagoda prices, so do not wait too long. Especially in clean and original condition are finding it increasingly difficult ,the classic 560SL model 107 is also available in high demand and difficult.
1989 = Last model 107 !
In onstabile financial corona times this is a safe investment